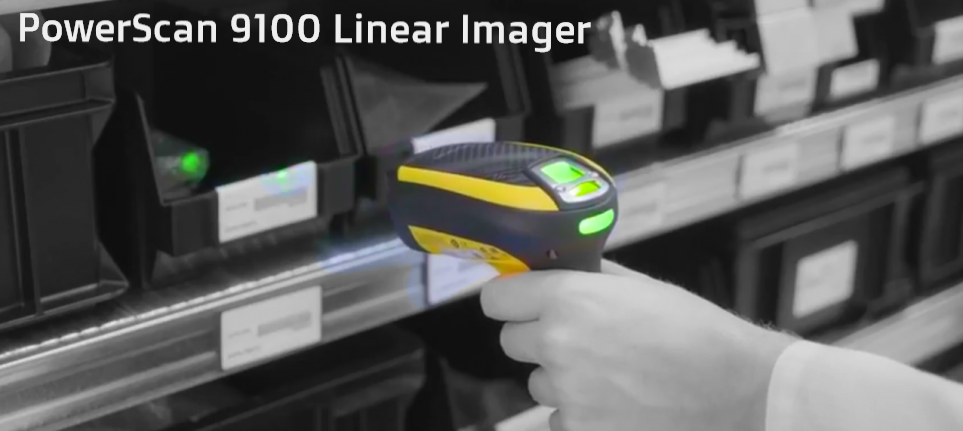 PowerScan 9100 Industrial Scanner
Datalogic, a global leader in automatic data capture and industrial automation markets, introduces the newest member of the renowned PowerScan industrial scanner family, the PowerScan™ 9100 linear imager series. New innovative Datalogic technology provides a green scanning line delivering the same crisp definition of a laser line with the added benefits of a linear imager. The result is outstanding 1D decoding capability.
"The PowerScan 9100 series green scan line is a true illustration of Datalogic's commitment to ingenious designs that improve the workflow of our customers," states Diego Nieto Vine, Transportation and Logistics Industry Unit General Manager at Datalogic. "Its innovative technology delivers a crisp 'laser-like' green scan line from a pioneering miniaturized scan engine that offers exceptional reading abilities."
The PowerScan 9100 series shares the rugged, ergonomic housing of all PowerScan scanners that are built to offer durability in tough environs. These readers are available in a full suite of models to provide the best solution for different customer needs: corded desk models; cordless models featuring Datalogic STAR Cordless System™ proprietary radio or Bluetooth® wireless technology.
Multiple interface options are available; every unit offers keyboard wedge, RS232 and USB connections. Optional Ethernet, standard and industrial, is available on both wireless models. Further features include:
Ability to read LCD screens on mobile devices

Capability of decoding low contrasting bar codes up to 15% PCS, including damaged or poorly printed bar codes.

Reading capability of up to 2.5 mils

IP65 water and particulate sealing rating

Drop resistance to 2.0m / 6.6ft

Datalogic's 3GL™ for good read feedback

Datalogic Aladdin™ configuration program

User 3 second Lithium-ion battery replacement

Operates over a wide range of temperatures

Datalogic STAR Cordless System model offers point-to-point and multi-point transmission, seamless roaming

Bluetooth wireless technology mode offers Piconet with up to 7 scanners connected to one base
The PowerScan 9100 series of scanners are perfectly suited for use in manufacturing, shop floor, distribution and logistics centers.