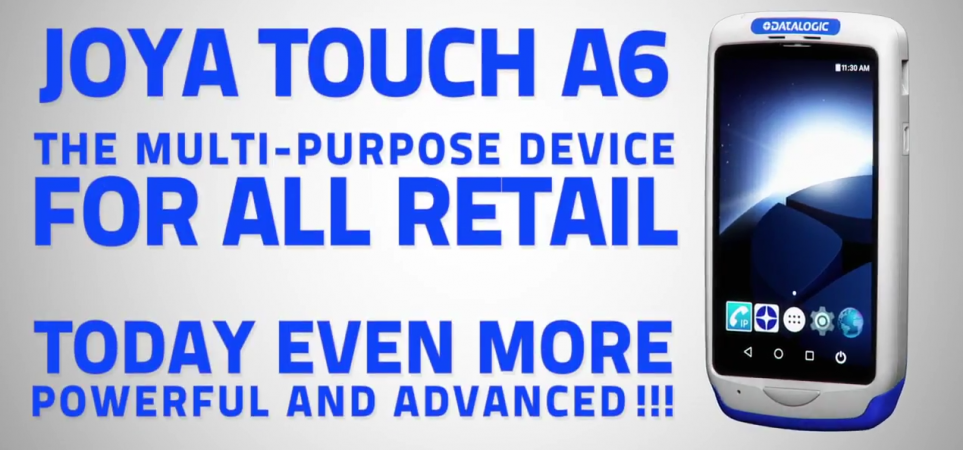 Datalogic Joya Touch A6
Datalogic, a global leader in automatic data capture and industrial automation markets, announces the Joya™ Touch A6 multi-purpose device for retail featuring Android™ 6 Marshmallow and a powerful Qualcomm Snapdragon platform.
"The Joya family was developed to address multiple facets within retail markets including Self-Shopping, Assisted Sales, Inventory, Access Control and many more", states Luigi Frison, Industry Marketing Director Retail-Store Automation at Datalogic. "We have taken this versatile device and extended it with the addition of the Android operating system; increasing its versatility and opening options for new software applications."
The Joya Touch A6 device comes with a powerful Qualcomm Snapdragon platform featuring Android 6.0 Marshmallow, and is field upgradable to Android 7.1 Nougat. The device incorporates the industry's first wireless charging technology, eliminating the need to clean contacts on the unit and cradle. Datalogic's wireless charging technology is compliant with the most widely used standard in the industry, offering wide compatibility. This feature radically reduces support costs and extends the device life. The Joya Touch A6 device is available in two form factors, a pistol grip version with a comfortable trigger and a handheld version resembling a smartphone. Multi-bay and single bay charging cradles support both form factors. Voice over Internet Protocol (VOIP) makes two way communications easier than ever on this multi-purpose device.
This device offers six charging profiles, allowing users to choose the profile that best suits their needs. Fully charged status is achieved in only 2 hours and the Boost Recharge feature ensures 80 minutes of use after only 15 minutes of charging.
The Joya Touch A6 device is the first mobile computer that supports Digimarc™ digital watermarking, allowing it to read Digimarc encoded labels. It also offers Datalogic SoftSpot™ technology allowing users to customize trigger placement on the touch screen for maximum scanning comfort. Further features include:
Wireless Communications

Wi-Fi (IEEE 802.11 a/b/g/n 2.4 GHz and 5 GHz frequency bands)

Bluetooth® Wireless Technology

Class 2 v4.0 Low Energy, Beacon support via BLE for geolocalization
3-Axis Accelerometer detects changes in screen orientation
Multi touch 4.3 inch FWVGA display

Advanced 2D imaging technology featuring White-illumination
Datalogic's patented 'Green Spot' technology for visual good-read feedback
USB connectivity
Vibration and/or speakers feature inform users of upcoming events
Fully supports Datalogic's self-shopping middleware Shopevolution™ or third-party software
Ergonomic form factor including both handheld and pistol grip models
Easily customizable: upper case, battery cover, front logo and screen protector
Corning Gorilla Glass 3 for maximum display protection
Joya Touch A6 devices are well suited for use in retail for Self-Shopping, Queue-Busting, Inventory, Access Control, Gift Registries, Shop Floor Applications and Assisted Sales.