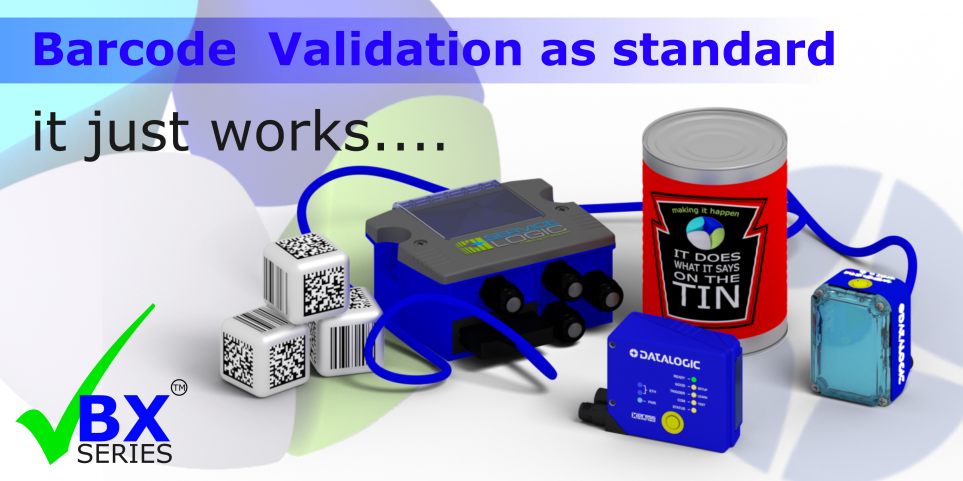 End of line packaging validation system
Your customers deserve 100% accuracy and with the VBX Series Packaging validation you can deliver.
A simple yet effective system to check barcodes (1D and 2D), date codes and more.
A solution tailored to you
By working with ServiceLogic Limited, you know you will receive a packaging verification system designed to meet your needs. Choosing the VBX Series will enhance your productivity with no compromise of line speeds and no need for additional process steps. As with all our solutions, we work closely with you from the initial design through to the implementation, training and after care support.
Neither your customer or you want the cost or inconvenience of mistakes which can lead to product recalls and heavy fines.
The VBX Series will provide:
• Guaranteed 100% packaging verification and validation
• Eliminated risk of EPW (Emergency Product Withdrawal) due to packaging errors.
• Reduced labour costs
VBX-100 Entry
– Distinguish between 'Good-read', 'no-read' and 'wrong-read'
– High speed operation
– Minimal setup time required
– Reads and checks every barcode on your production line 1D or 2D
– Digital IO
VBX-200 Basic
– Distinguish between 'Good-read', 'no-read' and 'wrong-read'
– Reads and checks every barcode on your production line 1D or 2D
– Production Stats are displayed on the touch screen in real time
– High speed operation
– Minimal setup time required
– Digital IO
VBX-3000 Vision
– Distinguish between 'Good-read', 'no-read' and 'wrong-read'
– Reads and checks every barcode on your production line 1D or 2D
– Correct and readable text fields
– Correct Logo's and Images
– Correct 'Date' detection
– Correct label positioning